Top 45 Innovations
Pultruded profiles and advanced finishing technology are combined to develop groundbreaking new products across multiple industries. We have introduced over 45 new innovative products to the market – each requiring a product specific set of mechanical properties and technology. Here is just a sample:
Mateenbar™
Leaders in durable rebar
Challenge
Develop a non-metallic, highly durable rebar. A direct substitute for steel, it needs to perform well in highly aggressive environments.
Solution
Mateenbar™ GFRP composite reinforcement can be used in the most corrosive environments including marine, chemical plants and mining. It has high tensile strength, it does not rust and can be used in applications where conductivity needs to be neutral. It is impervious to concrete cancer and rust jacking.
Installed cost is competitive and it has excellent whole-of-life savings compared to steel.
Outcomes
Mateenbar™, has met GFRP rebar design standards set by CSA, ASTM, ACI and AASHTO. To date, it has been used in over 250 projects worldwide including roads, tunnels and bridges.
Discover more about mateenbar™ here.
Key criteria/advantages met:
Corrosion-free
High tensile strength
Mateenbar™ bends
Efficient bends technology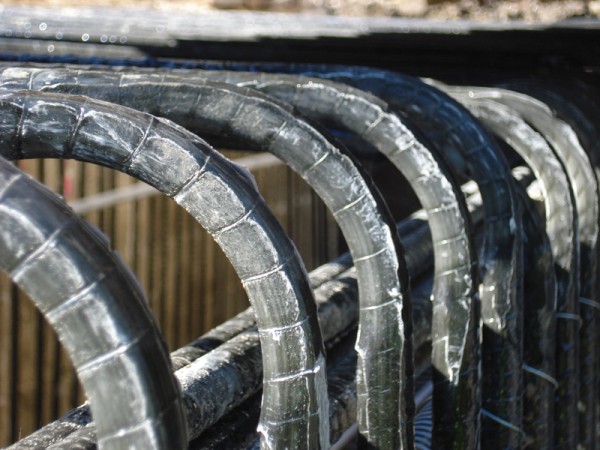 Challenge
To develop efficient bend manufacturing technology.
Solution
Pultron developed a technology to manufacture Mateenbar™ bends, customized for differing needs. Using bespoke bends technology, we can prepare a wide range of shapes quickly and efficiently.
Outcomes
Mateenbar™ bends have been delivered to sites worldwide. Mateenbar™ bends can also be installed on construction sites more efficiently than steel, by utilizing coils of Mateenbar™ bends.
Discover more about Mateenbar™ here.
Trampolines
Ultra-high peformance rods for trampolines
Challenge
Replace traditional steel springs with pultruded composite rods for a safer trampoline.
Solution
In collaboration with our client, we developed high performance rods to be used in a revolutionary trampoline for the ultimate safety and performance.
A modified proprietary resin was formulated with key performance criteria met, ensuring a 5x safety factor. Tight quality control parameters and bespoke testing methods were developed to meet stringent standards for safety.
Further developments have included:
purpose built testing methods
custom finishing technology
a program to double the fatigue resistance.
Outcomes
Safety enhancement to the trampolines led to confident supply into the highly litigious North American recreation market. They can withstand 10,000,000 bounces (fatigue) over 15 years under extremely high loading and creep stress fatigue conditions.
Key criteria/advantages met:
High creep resistance
High fatigue resistance
Complex finishing
Snowmobile track components
All terrain action
Challenge
Snowmobile track components face all terrain, extreme weather conditions and are constantly under strain when travelling over snow and rocks at high speed.
Solution
Working with our client, Pultron's D-shaped rod with increased flexibility was created for extreme conditions. Special finishing included fine end-bevelling at both ends.
Outcomes
The enhanced GFRP composite rods assist in the delivery of a durable and high performing track with ultra-high Tg and shear strength. New finishing technology allowed for mass production at low cost.
Key criteria/advantages met:
Very high fatigue resistance under flexural loads
Ultra-high Tg
Ultra high shear
Fine end-bevelling tolerances
Energy Storage Spring Technology
A world-first finishing technology
Challenge
The connection between trampoline and mat utilized an injection moulded ball. This proved unreliable, with a low pull-off strength. GFRP needed to be anchored into a steel tube via a polypropylene head.
Solution
We designed, developed and navigated a new finishing technology which molded the polypropylene ball directly onto the end of the rod at high speed and low cost. The pull-off strength with this process was improved by 20 times. This enabled entry in the US market, due to quality and safety being assured.
Outcomes
Mass production of a critical component using advancing finishing technology resulted in an overall improvement in life-cycle and performance. Internally developed technology 4x lower than outsourcing and 2x faster.
Key criteria/advantages met:
Pull-off strength
Flexural and fatigue strength
Mining Rockbolts
Developed a self-drilling hollow rockbolt
Challenge
Develop a self-drilling GFRP rockbolting system in coal mines for rapid installation and meeting the highest safety requirements.
Solution
In collaboration with Hilti, we developed the OneStep bolt, consisting of drill head, FRP tube and coupling nut complete with internal grout package.
The OneStep bolt is easy to install and able to cope with the stresses and shock loading of underground drilling.
Outcomes
The OneStep bolt provides all the advantages of self-drilling steel with the added advantage of cuttability.
Overall safety requirements were exceeded and installation speed increased, especially in unstable seams.
Key criteria/advantages met:
Shear strength
Torsional strength
Resistant to shock loadings
Tight tolerances between steel fittings and GFRP rod
Rockbolts and soil anchors
Developed the first GFRP rockbolts for the mining industry
Challenge
Develop a composite rock bolt used to safely secure mine walls.
Solution
Developed by Pultron, the world's first GFRP rockbolts to replace steel, used with a soil anchor attachment. They are ideal for metro and other tunnelling projects where a tunnel boring machine drills through the reinforcement.
Complex finishes included lacquering technology and glueing, undertaken to tighten tolerances between steel fitting and GFRP rod.
Outcomes
Significant improvements in mining and improved efficiency were attained with the cuttable nature of the bolt. It also provided a high level of safety for underground workers.
Key criteria/advantages met:
Shear strength
Safety critical
Torque strength
Helical threaded rod
Ultra-high thread tolerances
Marinas
Revolutionizing marina floating docks
Challenge
Stainless steel is expensive and steel corrodes quickly in marine environments. Our client required a GFRP (glass-fibre reinforced polymer) rod system for their floating docks, to cope in a marina environment where there is continual movement from erratic wave action caused by tidal changes and boat traffic.

Solution
Through collaboration with our client, the FRP thru-rod and nut system was born which went on to be patented. A custom CNC grinder technology was developed to add an accurate thread to the rods.
Outcomes
The thru-rod and nut system has resulted in substantially less maintenance and is easy to install. Tests in high salinity and high temperature waters have shown excellent results, with almost no long-term strength reduction.The system offers significant cost savings compared to galvanized or stainless steel bolts.
Check out the new upgraded Marina Del Rey Marina in California.
Key criteria/advantages met:
Corrosion resistance
Creep resistance
Fatigue resistance
Self-locking nut system
Optic Fiber Cable
Mass production for telecommunication industry
Challenge
In the early-90's, Pultron was asked by a leading telecommunications supply company in USA to develop the strength member for optic fiber cable to replace copper cabling. This required mass production of small diameter rods at high tolerances, high tensile strength and to develop splicing technology to join cables to over 100km length projects.
Solution
Pultron developed a cable that had tensile strength of over 1600MPa, and developed a urethane acrylate resin technology for high speed production. In addition, the engineering team developed GFRP splicing technology for cables.
Outcomes
Pultron supplied around one third of the global supply of optic fiber cable core during the 90's which culminated in over 100,000 kilometers of optic fiber cable.
Key criteria/advantages met:
Ultra-high tensile strength
Splicing technology
Thermal pins
Energy efficient concrete panels
Challenge
Thermal pins are used to hold two concrete layers together in a sandwich panel system, allowing load transfer while minimising heat loss through thermal conductivity.
Solution
Pultron, in conjunction with our partner, developed a thermal pin. Made from GFRP composites, it provides superior tensile and flexural strength, with low heat conductivity.
Outcomes
The replacement of steel in a concrete sandwich panel has removed areas of thermal leakage, resulting in better performing thermally-insulated buildings.
Semi-automated multi-stage finishing was further developed which kept pricing competitive.
Key criteria/advantages met:
Excellent thermal insulator
High tensile strength
High shear strength
Complex grinding technology
Powerpole cross-arm
Long lasting and safer
Challenge
Produce a lightweight powerpole cross-arm with a long life cycle to replace the degrading hardwood that is generally used.
Solution
We developed a composite cross-arm with a life span of at least 75 years. It is high strength and non-conductive, making it the perfect investment for energy suppliers.
Outcomes
The composite cross-arms are used by electrical companies in New Zealand and Australia. They have proven to be easier to install and considerably safer.
Key criteria/advantages met:
Shear strength
Safety Critical
Non-conductive
Lightweight
Drive-over fencing
Sustainable farming essentials
Challenge
A farming innovation company wanted to produce an electric fencing system that could be driven over easily, without damage from a quad bike. This product is integral to their grazing management system where gazing cells are set up with fencing using composite posts. Using highly flex and fatique resistant GFRP pultrusions meant posts would spring back to their original form when driven over – this would not be possible with timber, steel or traditional materials.
Solution
A highly flexible composite rod is a critical component of this awarded design. The rods are coated with a thick UV-resistant paint as a finish for durability and to elongate lifespan.
Outcomes
Eliminating the need for gates, saves farmers time and cost. The fencing system gives extra freedom to farmers by being able to shift stock faster and easier. Based on average usage, they have a life cycle of 40 years.
Key criteria/advantages met:
Very high flex and fatigue resistant
High modulus strength
UV coating technology
Automated/low cost customized finishing technology
Non-conductive ladders
Safety first for electrical industry ladders
Challenge
With GFRP composite proving a superior material to aluminium or wood, we created a ladder frame (stiles) for the electrical industry. They needed to carry up to 150kg and be non-conductive.
Solution
With worker safety front-of-mind, a ladder frame was developed, suitable for use in industries where non-conductivity is critical.
Outcome
Over 30 years of supplying ladder components, the ladder company are highly regarded for their durability and 'safety first' approach in the electrical industry.
Key criteria/advantages met:
UV Resistant
High strength
Non-conductive
Ultra-high modulus FRP cable technology
OEM product development for GFRP ducting rodder
Challenge
Produce a high strength, small diameter sheathed cable to assist electricians to push cables through ducting without snaking. It must be stiff yet flexible, to be used as a pulling device time and again.
Solution
A high strength round pultruded cable was developed and coated with a protective layer of polypropylene. The protective layer reduced friction and wear resistance.
Outcomes
With excellent flexibility and fatigue resistance, it can be manoeuvred into different spaces but still retain its form for re-use.
Key criteria/advantages met:
Critical bend-to-break diameter
Very high strength
High modulus
Extrusion technology & GFRP coiling technology
Electric Fenceposts
The original fiberglass fencepost
Challenge
To make hill country grazing and installing temporary fencing an easier and quicker task for farmers.
Solution
A world first the fibreglass fencepost and patented clip was invented by Pultron founder, Peter Holdsworth in 1982. FRP composites are extremely lightweight making them easy to install and transport. They have excellent durability and can be used time after time for short grazing cycles.
Outcomes
The patent clip was sold to Sir William Gallagher for $1 and a handshake. The fibreglass fencepost is still a commercial success today with thriving markets in New Zealand, Australia and America.
This product was also the catalyst to building Pultron from the ground up into a industrial technology company.
Key criteria/advantages met:
Lightweight
Coating technology
Patented clip
Sailing and windsurfing battens
Pioneered the hexagonal composite yacht batten
Challenge
Improve the performance of sail battens in competitive sailing and windsurfing.
Solution
In 1992, working alongside the world's leading sailmakers, a hexagonal rod shape was developed. The new shape was significantly lighter and more flexible, allowing the sail to perform well in steady conditions or with sudden wind gusts. New tapering technology and lacquering techniques were used, giving the design a competitive edge.
Outcomes
These sail battens have been used by top level sport people, including windsurfer Barbara Kendall, who won Bronze at the Sydney Olympics in 2000. The hexagonal-shaped rod is still used by sailors and windsurfers today.
Key criteria/advantages met:
Flexural strength
Fatigue resistance